Wine & Wildflower Journey
The weather is warm, the wildflowers are in bloom and it's time for the Wine & Wildflower Journey! We invite you to join us this spring from March 25th to April 19th in the picturesque Texas Hill Country, sipping and sampling award winning wines at unique Hill Country Wineries. Savor all that Texas Wine Country has to offer this Spring and join us for one day or all twenty-six on this self-guided tour.

Tickets Available Mid-February 2024
Regular price

Sale price

$100.00
Wine and Wildflower Journey Passport Ticket Includes:
Your Wine and Wildflower Journey Passport ticket works like a coupon book and offers hundreds in savings at award winning Texas Hill Country Wineries with a digital barcode ticket to be scanned at each winery (maximum of 4 per day).

A complimentary tasting at each participating winery. Most wineries may require reservations for a tasting. All reservation info is noted in the participating wineries list. 

15% discount on 3+ bottle purchases of wine at each of the participating wineries. You may redeem your discount at each participating winery once during the event. 
Too Good of a Deal to Pass Up!
All of these benefits for a ticket price of $100/couple or $65/individual. During a regular tasting room visit, the average tasting fee is $15/person, making the total value of your passport over $750! You'll cover the cost of your passport, couple or individual, by just visiting and tasting at 5 wineries.

Each order will include a custom barcode that serves as your Digital Christmas Wine Affair Passport ticket. This barcode will be emailed to you upon completing your purchase and will be scanned at each participating winery you visit.

Each day you can experience up to four (4) wineries, with a limit of visiting each winery once during the event. You have 31 days to enjoy multiple wineries in the beautiful Texas Wine Country.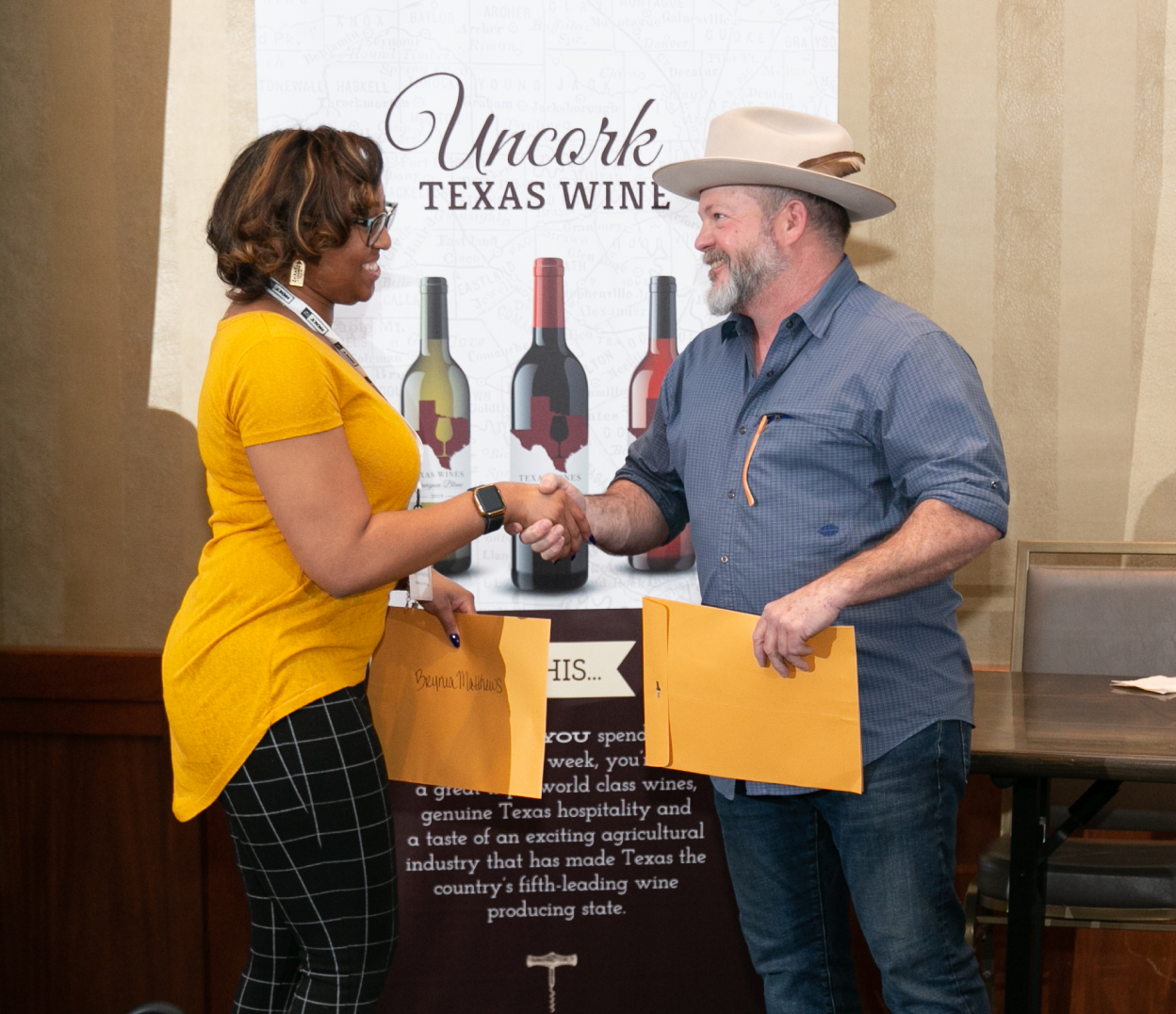 Your Wine and Wildflower Journey Passport ticket gives back!
In support of Texas wine, $5 of each ticket sold goes directly to the Texas Hill Country Wine Industry Scholarship Fund.  Over the years $55,500 has been awarded to 47 Texas students working towards a degree in Viticulture, Enology and Hospitality. 

To learn more about the Texas Hill Country Wine Industry Scholarship program, click here.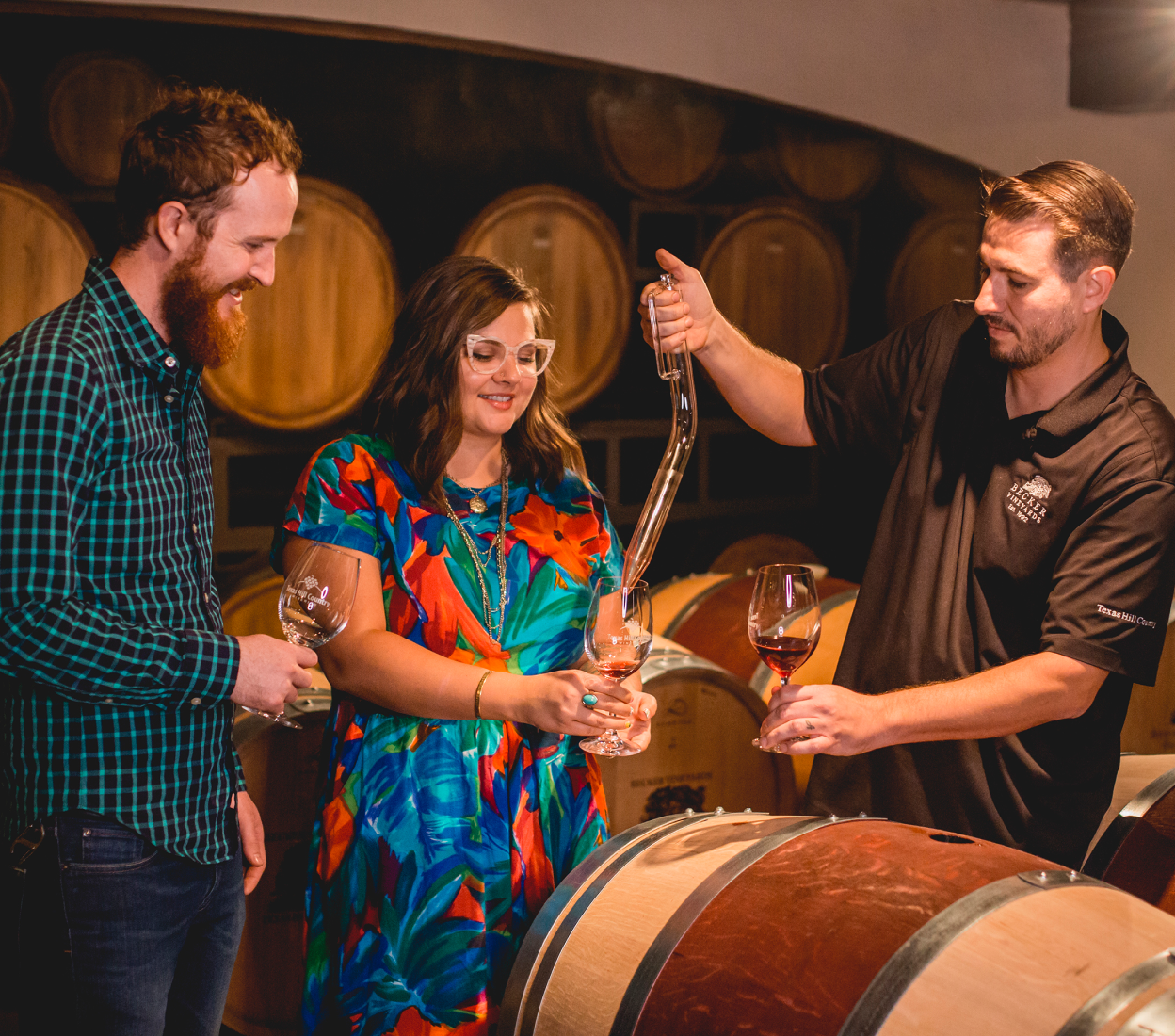 Participating Wineries
Each of our association wineries has its own personality, terroir and style of winemaking, yet they all share a commitment 
to quality, hospitality and a fervent passion for their craft. 
45 wineries participate in this event - see the wineries!

Download a Map and List of Participating Wineries
See The Wineries
Top Questions
What is the difference between couples and individual tickets?

Couples tickets are good for ANY TWO people (husband/wife, sisters, mother/daughter, friends, etc).  Couples receive TWO tastings, both people must be present together for the couples tastings (ie: one can not receive tastings on the first day of the event and the other person on another day of the event at the same winery).

Individual tickets are for ONE person, you will receive ONE tasting at each participating winery.
What days is my ticket good for?

March 25th - April 19th, 2024.
Which wineries are included?

You can download a list of participating wineries here or explore the wineries by checking out our Map page with the correct event filter applied.
I am giving this as a gift, can you change the name on the ticket?

The tickets are transferable so it does not matter that your name is on it. When gifting, you can choose to put the receiver's name on the order info and this will put their name on the ticket.
How do I receive my ticket?

A confirmation email will be sent to you once your purchase transaction is successful. The confirmation email will contain your ticket. You can either print, save to your phone or take a screenshot of your digital passport barcode to be scanned at each participating winery when you visit.
What time does the event start?

The event starts when individual wineries are open (usually 10-11am) and ends at closing of the wineries (5-6pm).  Please check out individual winery hours on the list of participating wineries above or on our map page.
WHERE DOES THE EVENT START?

There is NO start location - it can start wherever you would like, but keep in mind you can only visit each winery once and only four wineries per day!
What about transportation?

This is a self-guided event so you will use your own transportation or book with a tour company. Please use a designated driver.
Are wine glasses included with the ticket or at each winery?

No, wine glasses are not included. Each winery will have wine glasses for you to use while tasting but are not included to take home. Wine glasses are for sale at each winery if you would like to purchase separately.
Wine and Wildflower Journey Terms + Disclosure
Not all THCW member wineries are participating in this event, only those listed on this page.

Your Digital Passport Barcode must be presented at each winery to receive tastings and discounts.  You will not receive tastings at the wineries without your Digital Tasting Passport Barcode. 

Tickets are non-refundable and can not be exchanged for other THCW event tickets.  Tickets are transferable, you may give them away or sell them.

All sales will include tax and are subject to change. 

When using a Couples Passport, both individuals must be present for two tastings to be provided.  A Couple can be any two people. 

Children must be accompanied by an adult.  Some wineries do not allow guests under 21.

Valid ID is required to taste or purchase wines.

Winery events are separate from THCW trail, additional fees may apply, please check with individual wineries for fees.

Pets are not allowed at some wineries, please check with each winery before bringing your pet.

For groups larger than 8, you MUST contact the wineries before your visit to let them know you are coming and when you will be arriving at least 24 hours in advance. Some wineries will NOT accept groups of more than 8 people.

THCW Event tickets are meant for individual use, not for use in conjunction with a wine tour company who already has tasting prices set with individual Wineries for services rendered.

Transportation is not provided with your Passport ticket. 

Be safe. Please have a Designated Driver for your trail trips.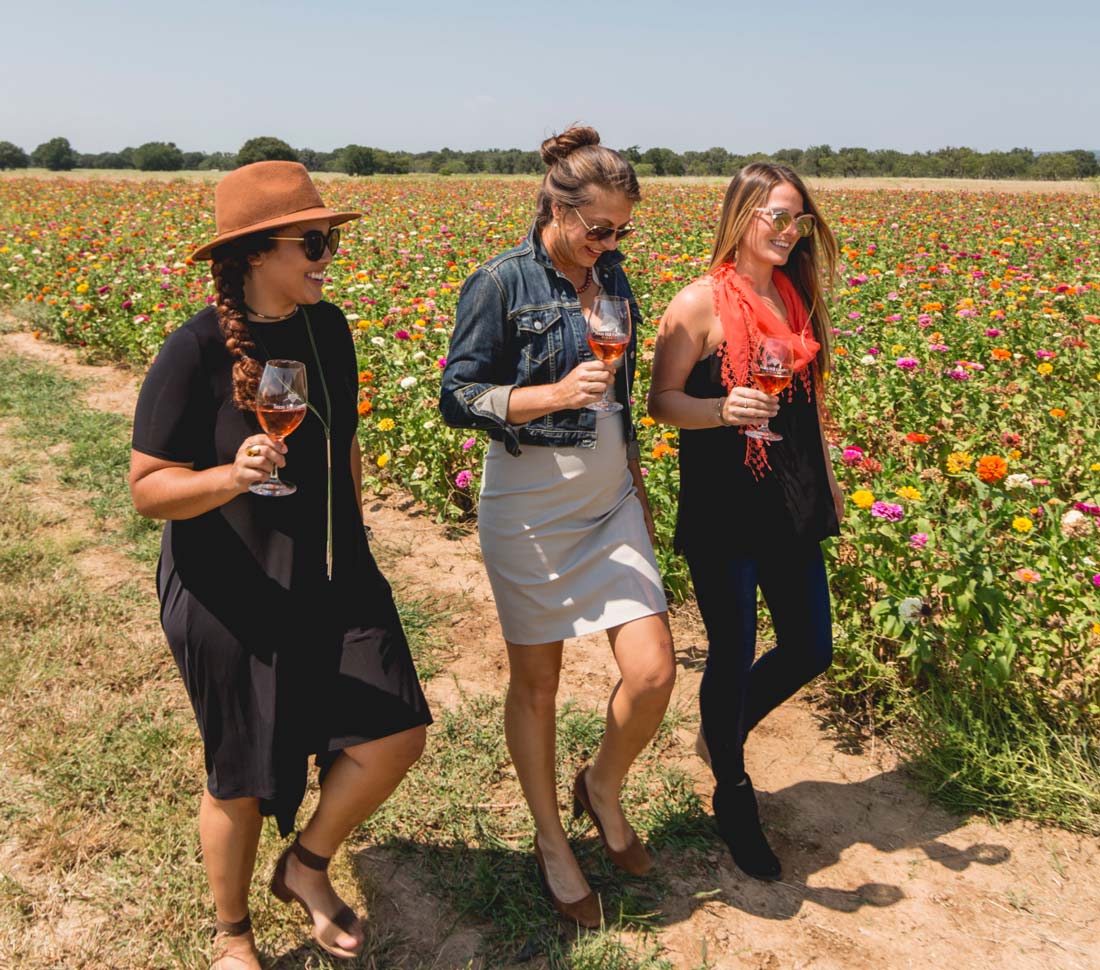 Experience the Magic
The Texas Hill Country attracts visitors all year round. Whether it's wildflowers in the spring, water sports in the summer, or dazzling displays of Christmas lights in the winter, there's always something to enjoy in the Texas Hill Country. Explore quaint small town shops and merchants, a variety of local restaurants, gorgeous state parks, rich historical sites, and land brimming with opportunities for hunting and hiking. There truly is something for everyone. Come fill up your cup - literally - and create unforgettable memories. 
Visit the Hill Country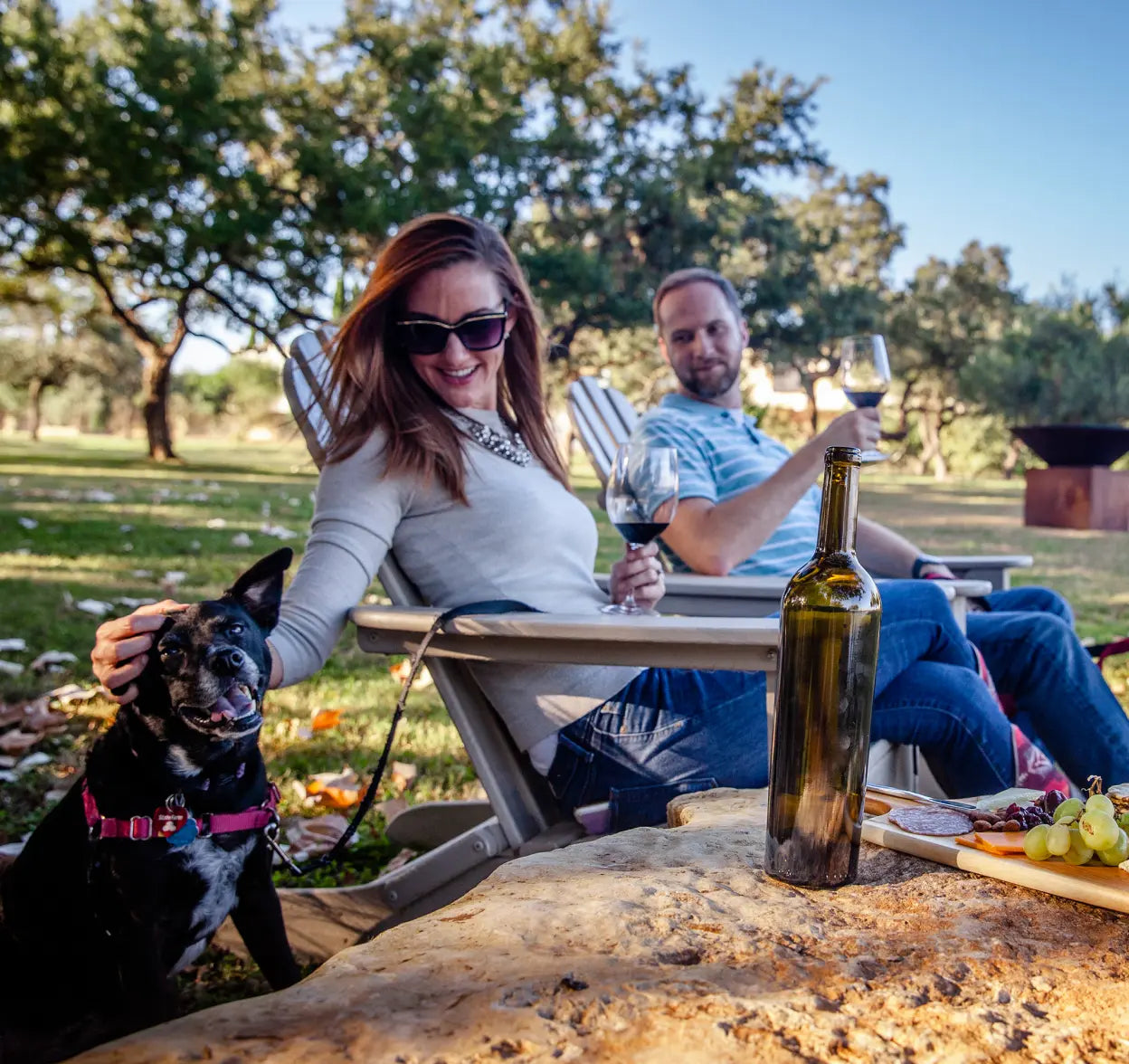 Other Upcoming Events
With a calendar brimming with engaging activities including THCW's four signature Passport events, roadshow events and winemaker dinners, as well as weekly member winery events, there is always something going on in the Hill Country. Come enjoy food, wine, weekly live music, grape stomps, holiday events and so much more.
See All Events