Presented by Uncork Texas Wines: 2024 Texas Hill Country Wine Symposium
This highly anticipated event spans three immersive days, offering an array of engaging seminars, enlightening lectures, and thought-provoking panel discussions. With over 20 sessions meticulously curated across four dedicated tracks—Vineyard, Winery, Business, and New Vineyard/Winery—the Symposium provides a comprehensive exploration of various aspects of the wine industry.
Join us February 4-7, 2024 at Horseshoe Bay Resort
Regular price

Sale price

$425.00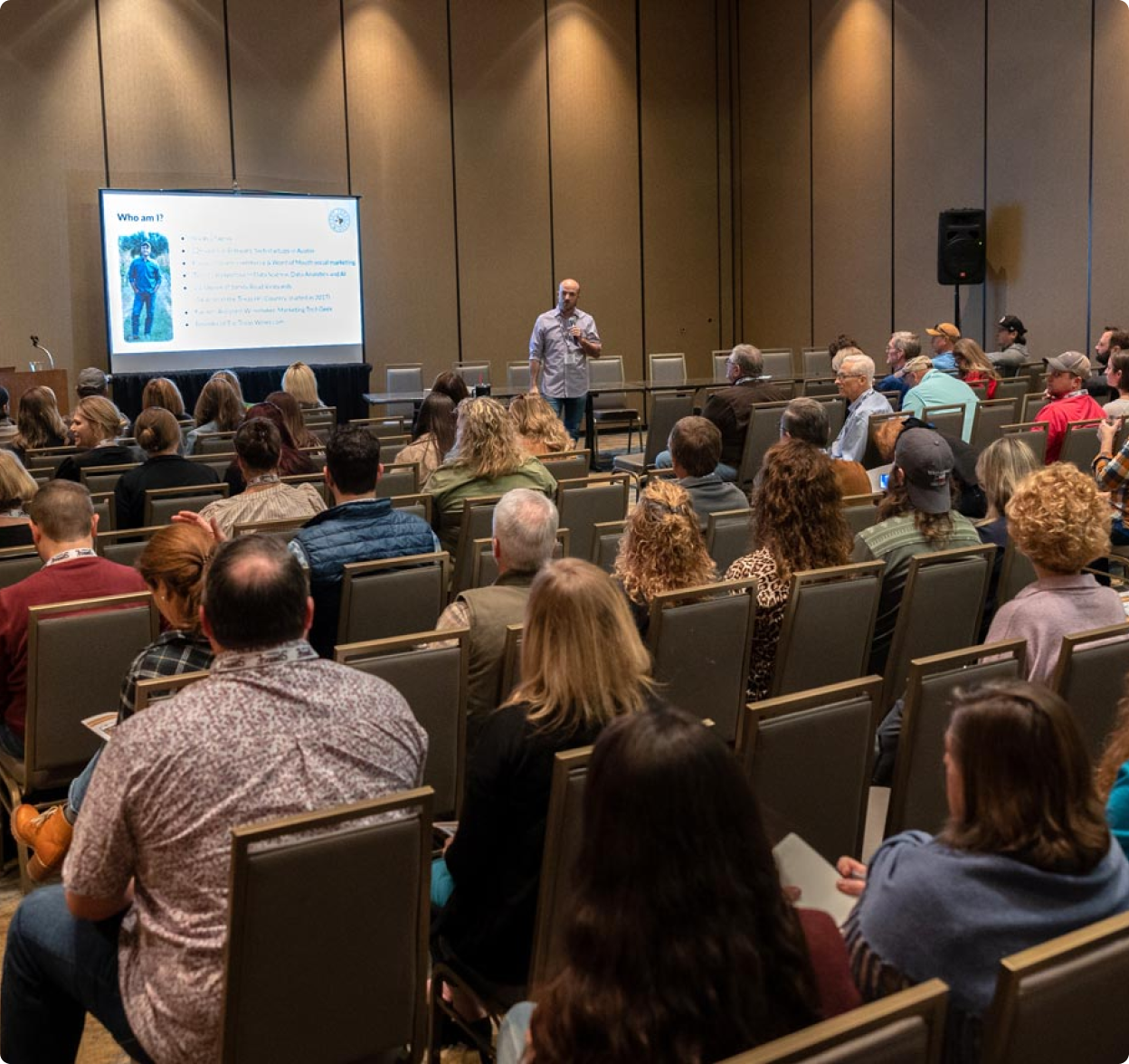 In 2015, Texas Hill Country Wineries established the esteemed Hill Country Wine Symposium. This event consists of seminars, lectures, panel discussions and an intimate trade show providing you the opportunity to connect with your current Texas clients, while also meeting new potential accounts.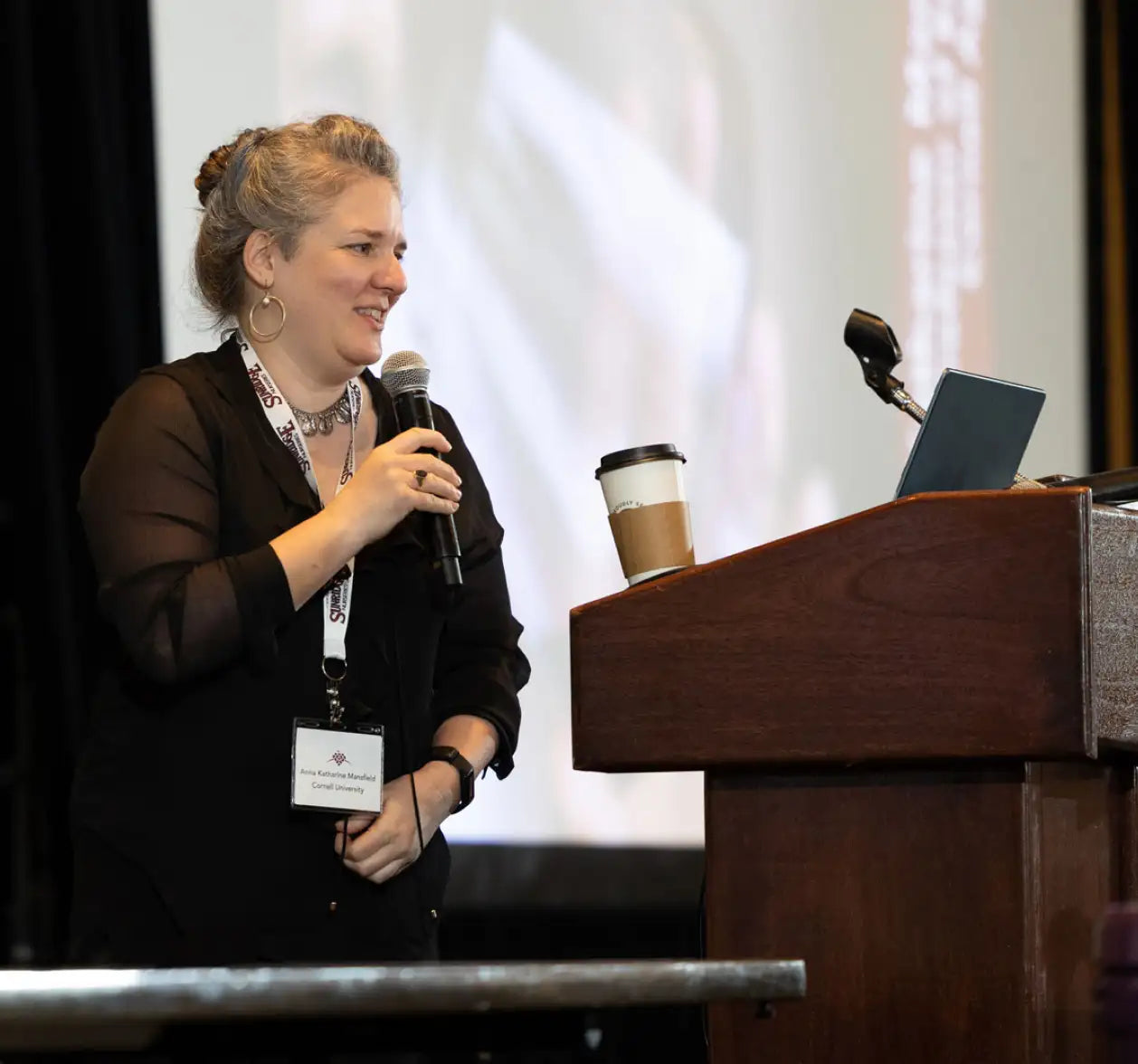 Join us for the 10th Annual Symposium
We have curated an incredible roster of industry experts and thought leaders who will bring their wealth of knowledge and insights to the forefront. The focus for 2024 will be Sustainability from Vineyard to Winery to Business.
In the past, our esteemed speakers have included luminaries such as Tammy Boatright (VingDirect), Al Wagner (Clos du Val), Clark Smith (WineSmith), Don Brady (Robert Hall Winery), Gary Finnan (GFC|Evoke), Doug Beckett (Peachy Canyon Winery), Christophe Hedges (Hedges Family Estate), Dr. Andrew Landers (Cornell University), Sandra Hess (DTC Wine Workshops), Dr. Gregory Jones (Linfield College), Michael Wangbickler (Balzac Communications), and many more!
NEW in 2024 - Sched Symposium App! Download and use details coming soon.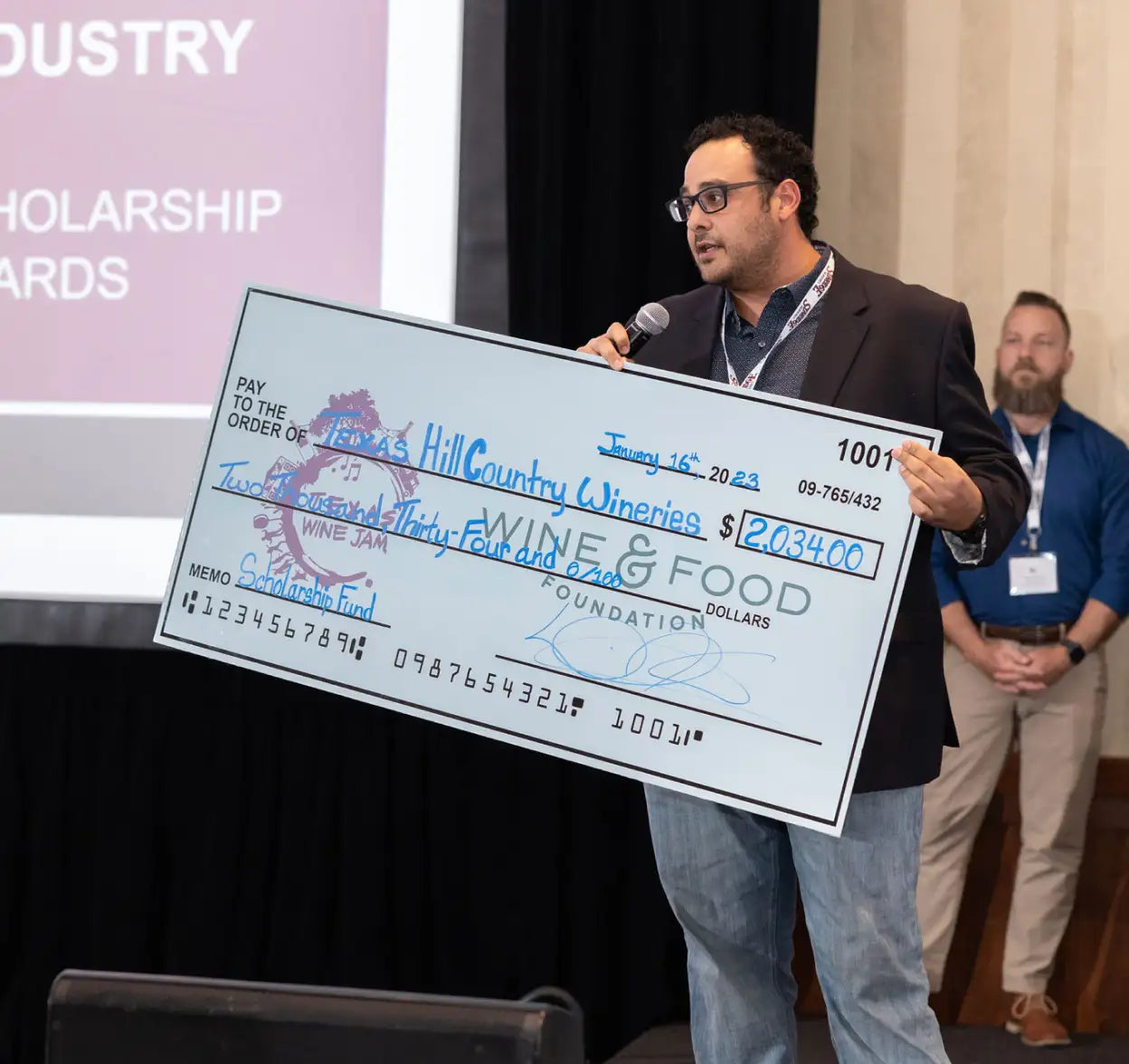 As part of the Symposium, we have curated special presentations during the two lunch breaks on days two and three. These have included thought-provoking sessions "A State of the Texas Wine Industry: Presidents Panel" and "The Crush Survey Report." Additionally, we are proud to host the Scholarship Awards presentation and reception on Monday evening, celebrating the achievements of Texas students pursuing fields related to the wine industry. To date, we have awarded over $55K in scholarships, empowering the next generation of wine industry professionals across the state. Learn more about the THCW Scholarship Fund.
Join us on Monday, February 5 for the Awards Presentation & Reception, 5:30pm in the Main Ballroom. BYOSparkling for the Reception to celebrate the scholarship recipients!
Be prepared for an enriching and inspiring experience as we delve into the wine industry with our esteemed speakers, engaging presentations and impactful scholarship recognition.
MENU

Welcome Tastes

Kerrville Winery 2008, Picpoul Blanc, Alta Loma Vineyard 2022
Grape Creek Vineyards, Right Bank 2020, Texas Red Wine

paired with

Seared Ahi Tuna - wonton chips, avocado mousse, sesame seed, pickled peppers
Smoked Duck Breast - cherry puree, raw radicchio, chamomile honey

1st Course

Dry Comal Creek 2021, Viognier, Texas High Plains

paired with

Roasted Root Vegetables Salad - cumin marinated carrots, spiced yogurt, carrot top pesto

2nd Course

Bent Oak Winery 2019 Sangiovese, Texas High

paired with

Braised Pork Belly - spiced glaze, roasted pearl onions, port wine sauce

Main

Hye Meadow Winery, Oswald Vineyards, Aglianico Vintage 2018, Texas High Plains
Pedernales 2020 Tempranillo, Lahey Vineyards, Texas High Plains

paired with

Steak Au Poivre - chervil and micro radish salad, olive oil, maldon salt, peppercorn-congac sauce

Sweet

Becker 2019 Reserve Chardonnay, Texas Hill Country, Tallent Vineyard

paired with

Toasted Vanilla Crème Brûlée - citrus macaron, spiced pepitas

Purchase Above

Join us the night before the 2024 Texas Hill Country Wine Symposium kicks-off for the Winter Winemakers Dinner!

On Sunday February 4th, enjoy an evening at Horseshoe Bay Resort for a perfectly paired dinner with wines from all seven THCW Board Members. Guests will be seated with an owner, winemaker or special representative from Bent Oak Winery, Hye Meadow Winery, Pedernales Cellars, Kerrville Hills Winery, Heath Family Brands, Becker Vineyards and Dry Comal Creek Vineyard.

Sunday, February 4, 2024

Horseshoe Bay Resort, Yacht Club

Check-in and Welcome Tastes at 6:30pm

Dinner at 7pm

Limited to 150 guests

Dress - Casual Elegant

Individual ticket: $160/person includes dinner and wines
Sponsor table: $1800/table of 10 seats includes dinner and wines for 10 plus sponsor recognition at table, menu and presentation (will ask table sponsor to provide 10 names of guests by January 22) - sponsorship is a charitable donation to THCW Scholarship Fund

Do not drink and drive, designated drivers encouraged. Ride share services may be limited in Horseshoe Bay area, please plan accordingly.

No refunds after January 22.
Day 1

Monday, February 5th, 2024

8am: Check-in opens

8:30am-4pm: Texas Wine Ambassador Certification Course

9am-10am: 2 Breakouts

10-10:30am: Exhibitor Break

10:30-11:30am: 2 Breakouts

11:30-1pm: Lunch on own

1pm-2pm: 2 Breakouts

2-2:30pm: Exhibitor Break

2:30-3:30pm: 2 Breakouts

3:30-4pm: Exhibitor Break

4pm-5pm: THCW Annual Meeting

5:30pm-6:30pm: Texas Hill Country Wine Industry Scholarship Awards & Reception - BYOSparkling

Day 2

Tuesday, February 6th, 2024


8:30am: Welcome


9am-10am: 3 Breakouts


10am-10:30am: Exhibitor Break


10:30am-11:30am: 3 Breakouts


11:30am-1pm: Lunch w/ speaker


1-2pm: 3 Breakouts


2-2:30pm: Exhibitor Break


2:30-3:30pm: 3 Breakouts


3:30-4pm: Exhibitor Break


4pm-5pm: 3 Breakouts


6pm-9pm: 10th Annual Symposium Reception - BYOW

Day 3

Wednesday, February 7th, 2024


8-9am: Breakfast Tacos


9am-10am: 3 Breakouts


10am-10:30am: Exhibitor Break


10:30-11:30am: 3 Breakouts


11:30-1pm: Lunch w/ speaker


1-2pm: 3 Breakouts


2-2:30pm: Exhibitor Break


2:30-3:30pm: 3 Breakouts


3:30-4pm: Symposium Close & Final Exhibitor Break


Sched Symposium App

New this year we'll be using the Sched app to help you navigate the Symposium. The app will include all session details, speaker info, sponsor and exhibitor contacts and more.

Download now to get your account set up, plan out your schedule and start connecting with other attendees.

Symposium App
2024 Educational Sessions
Monday, February 5

8am - Check-in opens - sponsored by Frost Bank & Gore Cold Storage

Coffee sponsored by Tarpon Blue Insurance Advisors

8:30am-4pm - Texas Wine Ambassador Certification Course - Kelsey Kramer, William Chris Wine Company - MAIN BALLROOM

9am-10am

NEW VINEYARD-WINERY: Custom Crush/Incubators/Buying Bulk - John Rivenburgh, Kerrville Hills Winery - LIMESTONE

- sponsored by Texas Tech University

NEW VINEYARD-WINERY: Start with the End in Mind, WISE Academy

- Sure you don't know what you don't now, but what is your idea winery business? In this session, we'll think through crafting your business from the software, the human resources, sales/marketing and more to make your business a success. It may be both what you can do now, but what you can start preparing for to achieve in the future for a successful business - BALLROOM F

10-10:30am - EXHIBITOR BREAK

10:30-11:30am

NEW VINEYARD-WINERY: Dynamic Budgeting & Forecasting - Livia Schorlemer, Pedernales Cellars - LIMESTONE

NEW VINEYARD-WINERY: Developing a Program with your Growers - Daniel Pate/Apical Texas, Madonna & Tony Phillips/Phillips Vineyard, Janet Miertschin/Portree Cellars - BALLROOM F

11:30-1pm - Lunch on your own (provided for Certification Course)

1-2pm

NEW VINEYARD-WINERY: What wine writers & reviewers are looking for in wines - Jessica Dupuy, Journalist - LIMESTONE

NEW VINEYARD-WINERY: Winery design with sustainability in mind - Tony Korman, Korman Development - BALLROOM F

2-2:30pm - EXHIBITOR BREAK

2:30-3:30pm

KEYNOTE - Jim Erben, Erben Associates - BALLROOM F

- Succession by Design, Not Default™: Without a written plan, confusion and heartbreak are on the other side of a succession or exit from the business. Jim uses storytelling to provide insight and best practices from his 30 years of succession planning experience. Our proven guide will offer relief to owners — regardless of their stage of business.

3:30-4pm - EXHIBITOR BREAK

4-5pm - THCW Annual Owners & General Membership Meeting - THCW MEMBERS ONLY - LIMESTONE

5:30-6:30pm - Texas Hill Country Wine Industry Scholarship Awards & Reception

BYOSparkling (drop off at conference center desk)
Tuesday, February 6

8am - Check-in open - sponsored by Frost Bank & Gore Cold Storage

8:30am - Symposium Welcome - MAIN BALLROOM

9-10am

TASTING: Warm Climate Sparkling - Josep Samso, Raventos - MAIN BALLROOM - add on tasting fee $20/person

VINEYARD: Vineyard Management Practices that Influence Potassium and Wine pH - Justin Scheiner, Texas A&M University - LIMESTONE

- High juice/wine pH can be a challenge in hot climates. This presentation will discuss the role of potassium in high pH wines and highlight current research in Texas and elsewhere that aims to mitigate pH problems through vineyard management. 

BUSINESS: Marketing ROI - Trevor Kale, Kale Ventures - BALLROOM F

10-10:30am - EXHIBITOR BREAK

10:30-11:30am

WINERY: Laboratory, a necessary tool in winemaking, what do you need? When do you outsource analyses? - Bénédicte Rhyne, Wine Country Consulting - MAIN BALLROOM

- Science and trusting analyses numbers are important in winemaking decisions and can have devastating consequences if ignored or not reliable. We will explore the must have as well as have a look at the sophisticated toys from small size to big size wineries in the land of Laboratory Wine Analysis.

VINEYARD: Improving wine quality through custom pressing in the field - Blake Vande Hoef, Integrity Wine Group - LIMESTONE

BUSINESS: Show Me The Money: Understanding Winery Value - Derek Groff, Moss Adams - BALLROOM F

- There are several key factors involved in determining the value of a wine business. Learn the primary financial and valuation drivers in the wine industry as well as how different production and distribution models impact a winery's ultimate value.

11:30-1pm - Lunch - MAIN BALLROOM - sponsored by Comerica Bank

THCW Presidents Report - John Catalano, Bent Oak Winery, President and Mike Batek, Hye Meadow Winery, Vice President

Texas Crush Survey Report - Justin Scheiner, Texas A&M University

1-2pm

WINERY: The Elusive Chemistry of Grape and Wine Phenolics - Maureen Qualia, Texas Tech University - MAIN BALLROOM

We will start with the basics of phenolic chemistry in grapes and wine and then explore the complex chemical reactions that occur during wine production and maturation.  This presentation will include a combination of sensory standards and commercial wines for evaluation. This presentation will include sensory standards for demonstration. 

VINEYARD: Xylphi PD; A Phage Based Biocontrol Product for Pierces Disease; Efficacy Studies in Texas Vineyards - Jacy Lewis, Texas A&M AgriLife Extension - LIMESTONE

Pierces disease is a primary limiting factor to production ofVitis viniferain most Texas growing regions. Xylphi PD is a new bacteriophage based biocontrol agent for control of Pierces disease. This product is OMRI certified for organic production and is the only product on the market approved to target the pathogen. Current control methods are focused on vector control.  While extensive testing under typical CA conditions have been carried out, little is known about how this product may perform under the very different environmental and disease pressure conditions in Texas vineyards. Texas A&M AgriLife Extension has completed a single study in a mature vineyard with high PD pressure. Currently studies on efficacy in newly planted vines in vineyards with moderate to high pressure are underway. If results are positive, this could represent a new tool for Texas growers in the prevention and control of PD infection.

BUSINESS: Building Your Brand with Intention: A Roadmap to Thrive - Chris Brundrett, William Chris Wine Company - BALLROOM F

A deep dive on how things like intention, purpose and identity make a difference to your brand's success in the wine industry. Take away examples of these concepts at work that you can apply to your growing business. 

2-2:30pm - EXHIBITOR BREAK

2:30-3:30pm - KEYNOTE: Kim Murphy Rodrigues, Rhone Rangers - MAIN BALLROOM - sponsored by Moss Adams

3:30-4pm - EXHIBITOR BREAK

4-5PM

WINERY: What defines success for bottling - Mike Goddard, Vine & Spirit - MAIN BALLROOM

VINEYARD: Sustainability in Texas wine: Starting in the vineyard - Colleen Myles, Associate Professor, Texas State University - LIMESTONE

Sustainability is conceptualized as tripart, encompassing concerns spanning across the 'three Es,' environment, economy, (social) equity. In this session, we will discuss the dimensions of sustainability in Texas wine, with a focus on the environment vis-à-vis principles of, and practices for, sustainable vineyard management.

BUSINESS: Wine Club - WISE Academy - BALLROOM F

- sponsored by WinePulse

- This session will focus on creating (or updating current) wine clubs to promote repeat purchases, loyal customers and a strong revenue stream. From benefits for locals or out-of-area members, attracting new members to keeping members, this session will help wineries think about how they want to establish and grow their wine clubs.

5:30pm-7:30pm - 10th Annual Symposium Reception + Hill Country Industry Awards - PALM PAVILION

Wine glasses sponsored by C&C Sales & Marketing/Glass Tech
BYOWine - drop off at conference registration desk
Wednesday, February 7

8-9am - Breakfast Tacos & Networking - FOYER

sponsored by Trysk Print Solutions

Coffee sponsored by Tarpon Blue Insurance Advisors

9-10am

TASTING: Acidifying Methods - Andreea Botezatu, Texas A&M University - MAIN BALLROOM - add on tasting fee $20/person

WINERY: Zoran Ljepovic - From Dusk Until Delivery (or In the heat of the night) - LIMESTONE

Harvest operations and long transport can expose your fruit to enhanced microbial risk from more than just the usual suspects.  How can you identify the culprits and best protect your fruit, so that it arrives safely at your door?

BUSINESS: Dynamic Compensation, Bonuses, Talent Retention, Culture in the Workplace and more - Karen Bonarrigo/Messina Hof Winery, Kristen Nelson/Ab Astris Winery & TBA - BALLROOM F

10-10:30am - EXHIBITOR BREAK

10:30-11:30am

WINERY: Federico Casassa, Cal Poly University - MAIN BALLROOM

VINEYARD: Hill Country & High Plains Geology & Grape Growing - Kelsey Kramer & Charlie Franck, William Chris Wine Company - LIMESTONE

- Discover the broad distinctions between the geologies of the two largest AVAs in Texas, and consider the range of grape-growing options that result from the soil's properties. This seminar will start with the depth and age of what is beneath the ground and end with the potential range of effects on flavor and structure in a glass of regional Texas wine.

BUSINESS: The Building Blocks of Content Creation - Donna Rene Johnston/Consultant, Caroline Bradley/Consultant, Kate LaFleur/THCW - BALLROOM F

Join us and uncork the power of creating and showcasing your compelling winery story. In this session, we will dive into media kits, A/B-roll footage, viewer psychology, and the power of influencer marketing.

11:30-1pm - Lunch - MAIN BALLROOM - sponsored by Vinwizard

KEYNOTE: Emily Hodson, Virginia Wine Research Exchange & Veritas Winery

Promoting Innovation Through Experimentation in Your Wine Industry: The development of a regionalized Winemaker's Research Exchange: Sharing a brief history of the founding of the Winemaker's Research Exchange, its objectives, methodologies and presenting a few of the most recent studies to show how this type of work is crucial to the development of a wine region.

1-2pm

WINERY: Rapid Fire Session - MAIN BALLROOM

- Rapid Fire Winery 1 - Amanda Fleming, University of Arkansas, Department of Food Science

Using Non-Saccharomyces Yeast for pH Reduction during Wine Fermentations of Chambourcin Grapes from a Warm Growing Region: Like many cultivars in the United States, Chambourcin (Vitis hybrid) grapes from warmer growing regions can have high pH at harvest, thus affecting wine quality. Acid additions or malolactic fermentation (MLF) can modify wine pH, however use of non-Saccharomyces yeast, such as Lachancea thermotolerans, has been shown to modify pH, acidity, and other attributes during wine production. In 2021, 168 kg of Chambourcin grapes grown
commercially in Arkansas were harvested and transported to the University of Arkansas System Food Science Department for wine production. The grapes were randomized into batches, crushed, and destemmed. Four inoculation treatments in duplicate were
conducted using S. cerevisiae (SC) without and with malolactic cofermentation (SC-MLF) and L.
thermotolerans with a sequential
inoculation with S. cerevisiae (LT-SC) without and with malolactic cofermentation (LT-SC-MLF). Basic composition, sugars, and organic acids were evaluated daily during fermentation for 14 days at 21 °C with all inoculation treatments completing fermentation in 6
days (total sugars < 0.3%). Prior
to inoculation, soluble solids, pH, and titratable acidity were 18.78%, 3.51, and 0.73%, respectively, with
the main acids as tartaric (0.31%) and malic (0.44%). Regardless of malolactic fermentation, by fermentation day 6, titratable acidity, lactic acid, and total organic acids were higher in LT-SC wines compared to SC wines, while pH of
LT-SC wines was lower than SC wines. From fermentation day 0 to bottling, use of L. thermotolerans in Chambourcin wine production resulted in changes in acidity attributes with reductions in pH (~4%) and malic acid (~10%)
but increases in titratable acidity (~55%), lactic acid (64%), and total
organic acids (~58%), regardless of malolactic fermentation. Mixed fermentations with L. thermotolerans and Saccharomyces yeasts produced wines with lower pH and higher acidity, contributing to microbial and color stability, while providing winemakers with options for producing more complex wines.  Acknowledgment of funding sources: Lallemand Inc.

- Abigail Keng, Texas A&M University

- Demi, Cornell University

VINEYARD: Rapid Fire Session - LIMESTONE

- Rapid Fire Vineyard 1 - Jacquelyn Wrey, Missouri State University - Distribution patterns of Allorhizobium vitis in Missouri vineyards and non-vineyard soils

Crown gall disease causes significant economic loss to the grape and wine industry. Preventive strategies are most effective for mitigating the loss of grapevines in vineyards, as there is no known cure for this disease. Crown gall is caused by the bacterium Allorhizobium vitis carrying a tumor-inducing (Ti) plasmid. A. vitis bacteria live systemically in the grapevine before causing visible symptoms and can survive in residual plant tissues and in soil for two years or longer.
Diagnostic methods have been developed to detect A. vitis bacteria in grapevines and soil, but more reliable, specific, and high-throughput diagnostics are still needed for screening nursery
stocks and soil. We have found primer sets unique to A. vitis on the origin of replication and the
virulence regions of the Ti plasmid. We have developed procedures and protocols for reliably detecting A. vitis bacteria. Our results showed that A. vitis bacteria are present in soil near and within the sampled vineyard soil, but whether they are tumorigenic requires further investigation. We have conducted a survey of Missouri vineyard soil and grapevines, as well as non-vineyard
soils, to know the distribution of A. vitis. We are currently growing out the bacteria within these samples, which will be used for inoculation on healthy model plants. Whole genome sequencing will be conducted, and the results will help determine tumorigenicity. The outcomes from this research will help the grape and wine industry to develop effective strategies for preventing and
managing crown gall disease in vineyards.

- Rapid Fire Vineyard 2 - Michael Cook, Texas A&M - Maximizing Water Use Efficiency in Texas Vineyards as a Means to Promote Wine Quality and Stability Parameters While Ensuring Grapevine Resiliency Under High Stress Environments

Irrigation management is a ubiquitous challenge in Texas vineyards due to inconsistent weather conditions and varying soils. Many times, this results in inefficient water use and added stress, reducing the resiliency of grapevines (i.e., sustainable production). Therefore, researchers with the Texas A&M AgriLife Extension Service have partnered with five industry associations in evaluating grape resiliency amidst an unpredictable climate and a dwindling precious resource, water. Working together, we have established three trials across three regions with the goal of developing practical and economically feasible tools for growers to implement in their vineyards, appropriate for their distinct region, that will promote wine quality and stability parameters while ensuring vines are resilient and better able to cope with perennial vine stressors such as extreme heat and drought. During this presentation we will discuss previous research that led up to this study, current study updates, and future collaborative opportunities. 

- Rapid Fire Vineyard 3 - Elda Quintana, Texas A&M

BUSINESS: Rapid Fire - jennie.gilbert@redchirp.com - BALLROOM F

WinePulse - Remy Sabiani

RedChirp - Jennie Gilbert

2-2:30pm - EXHIBITOR BREAK

2:30-3:30pm - KEYNOTE - Justin Jackson, New York Wine & Grape Foundation - MAIN BALLROOM - sponsored by Texas Wine Growers

- Kickstarting Sustainable Viticulture: The challenges and benefits of building a regional sustainability certifiction. Facing increasing climatic instability, viticulturists and winemakers around the world are forced to evaluate their impact on the environment. Sustainable practices may look good on paper but are often expensive and labor intensive. However, consumer demand for sustainably labeled products is on the rise and for commodities such as wine consumers are often willing to pay a premium that can offset added production expenses. A regional sustainability certification is an excellent way to communicate the responsible efforts of viticulturist to consumers. In 2023 the New York Sustainable Winegrowing program officially certified its first vineyards. By sharing the thought process behind the program's success and failures Justin Jackson, Sustainability Program Manager at the New York Wine and Grape Foundation, hopes that other winegrowing regions are able to kickstart their own certification programs.  

3:30-4pm - Symposium Close - MAIN BALLROOM
Speaker Bios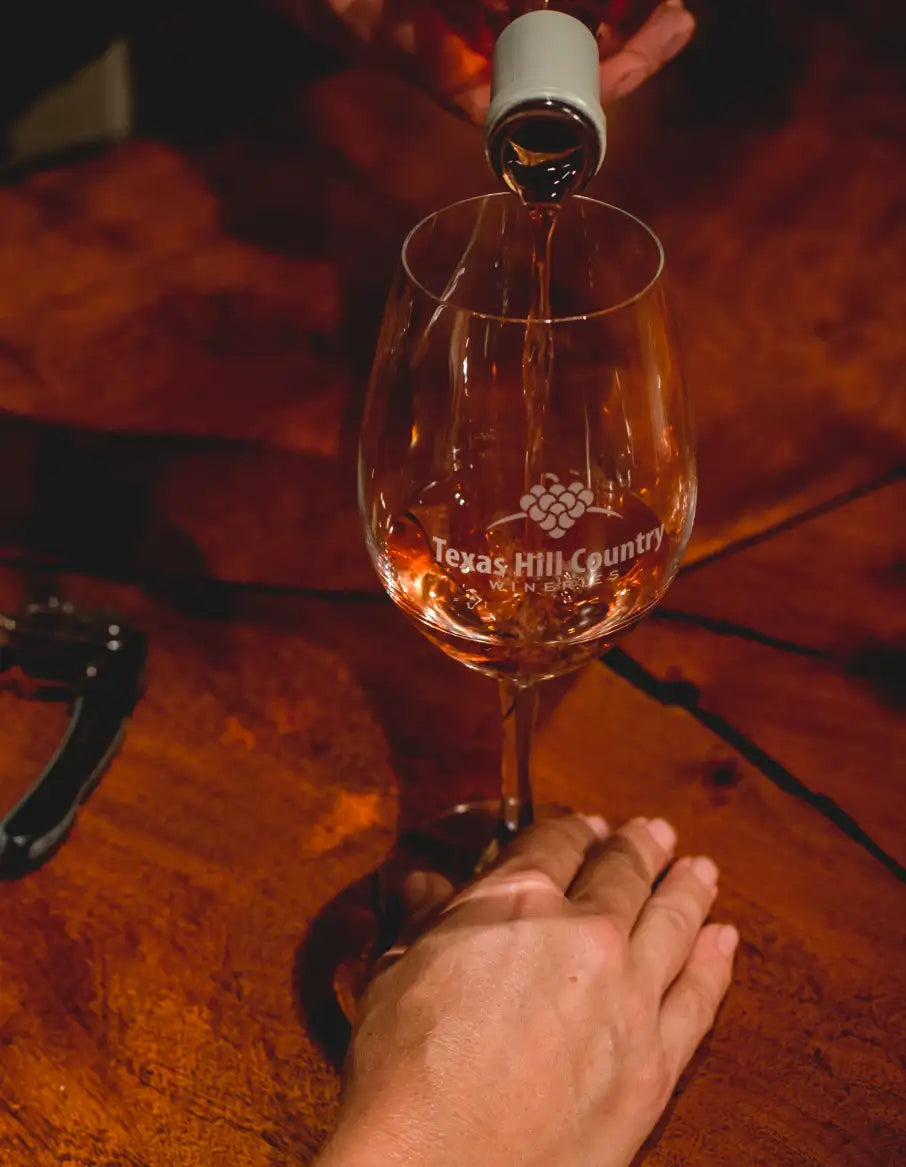 Texas Wine Ambassador Certification Course
Registration (not included with Symposium): $250 per person
Time: 8:30am to 4pm

Interactive with printed materials and slides
Tasting of 8 Texas wines and one European comparative wine
Timed, multiple-choice paper exam in the final hour
Pin and certificate awarded upon passing
Suggested for professionals, connoisseurs, and even casual wine drinkers. No prior knowledge of wine is required.
The Texas Wine Ambassador Certification is a one-of-a-kind, one-day course aiming at building the reputation and quality of Texas wine knowledge and service. The class was created to support and sustain a region during its era of explosive
growth. Plan to learn the basics of what wine is to the depths of Texas soils, all with the goal of impacting others with Texas-grown wine in a concise and meaningful way.
Every Ambassador will gain the skills needed to combat the misconceptions of Texas wine, identify the core themes of growing grapes within the state, and how to
enhance these wines through service. These core themes include:
Why Texas wine looks like the way it does (inside and out)
Why Texas wine tastes the way that it does
How to make comparisons of Texas wine
How to get consumers to connect to Texas wine
 Ambassadors will confidently answer:
What are the major challenges of growing wine in Texas?
How does the relationship between water and soil affect the grape varieties planted in Texas
What is the geological makeup of Texas, and how does this translate to what we smell and taste in the glass?
What is the "Modern Era" of Texas wine?
What is the influence that different grape species and grape varieties have had on the Texas wine industry?
How does the balance of Texas wine differ based on growing conditions?
What aspects of Texas wine can we use to compare to other regions in the world? Which regions are these?
 Schedule:
8:30 - 11:30pm Lectures, exercises and tasting of white/rose wines
11:30 -​12:30pm Lunch (provided) and networking
12:30 - 3pm Lecture, exercises and tasting of red wines
3 - 4pm Exam
2024 Exhibitors
Anjudi3
Barrel Associates
Berlin Packaging
Bucher Vaslin North America
Butterworth, Inc
C&C Sales & Marketing/Glass Tech
Cadus Cooperage
Capital Farm Credit
Comerica Bank
Commerce 7
Cooperages 1912
Euro-Machines
Flextank
G3 Enterprises
Hotsy Equipment Company
Independent Stave Company/Oak Solutions Group
Inland Desert Nursery
Jim's Supply Company
Nadalie USA
Novavine
Olavin
OrderPort
Questco
RedChirp
Scott Laboratories
SensorInsight
Spectrum Wine Specialties
Tarpon Blue Insurance Advisors
Texas Hill Country Corkers
Texas Tech University
Texas Wine Lover
The Bracero Group
TN Coopers
Tonnellerie Bernard
Uncork Texas Wines
Vintners Vault
Vinwizard
Vinx2 Winery Software - vintrace
Western Square Industries
WineCub
WinePulse
WinStar Insurance Group
WISE Academy
Exhibitor Registration
Need Lodging?
Enjoy a stay at Horseshoe Bay Resort - Texas' premier AAA four-diamond lake and golf resort featuring 72 holes of award-winning Robert Trent Jones golf, full-service marina, spa, tennis and waterfront dining on the shores of Lake LBJ.
A group room rate has be set up for this event - use links below to book
Please note rates expire January 4, 2024. Book early to guarantee your discount.
Registration Details
Early Bird Registration

Registration Launch - September 30

Member* $275

Non Member $375

Symposium Registration

October 1 -December 20

Member* $325

Non-Member $425

Symposium Late Registration

December 21 – February 7

Member* $375

Non-Member $475

*Member Registration

THCW Members - Winery, Affiliate, Associate & Growers - receive a discounted registration rate. You will be sent a discount code, if you need assistance, email us info@texashillcountrywineries.org
Please use the ADD A NOTE TO YOUR ORDER box in the Cart to enter the business name for your registration and all other names for additional attendee registrations on the same order.
Tastings will be an additional charge of $20/person per tasting.

No refunds available after Monday, January 15, 2024.
MEDIA - contact us for media rate
Registration Includes
3 days of educational sessions


(not including Texas Wine Certification Course)

Lunch on

Tuesday & Wednesday

10th Annual

Symposium Reception
Please Note: Registration for the 2024 THCW Symposium does NOT include registration for the Winter Winemaker Dinner or the Texas Wine certification Course. These are separate events and therefore tickets should be purchased separately.
Executive Director & Sponsorships
January Wiese

Silent Auction Coordinator
Donna Rene Johnston

Comms. Coordinator & Exhibitors
Kate LaFleur


Social Media
Caroline Bradley

Symposium Committee Chairs
Seth Urbanek & John Cedillo


Photographers
Karen & Bill Peary

Wine Coordinator
Amie Nemec


On-site Volunteers
Madison Hawkins-Murchison 
& Cassie Marbach